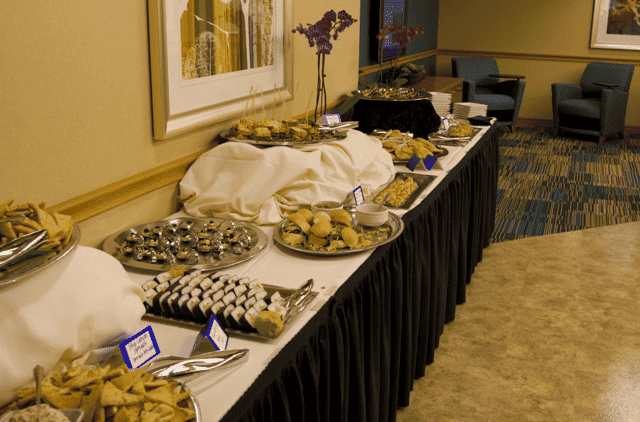 Private Dining & Catering
Contact us to cater your special event today!
Our Private Catering Parties are legendary! We offer a unique private dining experience for your special event. Choose from the Porch, Terrace or Lodge and we'll take care of all the details. An ideal location for corporate parties, charity events, family reunions, showers, rehearsal dinners or any celebration! If you need any more details give us a call! We will be happy to answer all of your questions.
Meeting Food & Beverage
Blue Canyon Kitchen Tavern is a unique destination that caters to your event and business needs. Our comfortable surroundings and inviting ambiance paired with attentive service and delectable cuisine, provide the ideal location for your next meeting or group event. Take advantage of our spacious milieu, and let us set the stage for you to meet and exceed your goals. Simply choose from our Porch, Terrace or lodge venues and our event planners will take care of the details. Whether for education, training or recreation, Blue Canyon is the place to be to engage and inspire for the new year.
Meeting Amenities
• Access to all Audio-visual equipment to rent
• Delicious prepared on-site catering, customized to meet and budget to include breakfast, lunch, dinner, and breaks
• Complimentary space when food and beverages are purchased 
• Complimentary access to faxing and copying of meeting materials (printing quantities may be limited)
• Complimentary access to a PC workstation to print meeting materials (printing quantities may be limited)
• Walking distance to the Hilton Garden Inn Twinsburg for overnight guests
| | | | | |
| --- | --- | --- | --- | --- |
| Rooms | Capacity | Area (sqFt) | Dimensions | Ceiling (Ht) |
| The Lodge | 100 | 1452 | 33 x 44' | 28' |
| The Terrace | 50 | 714 | 17 x 42' | 11' to 8' |
| The Porch | 30 | 420 | 15 x 28' | 9.5' to 8' |
CATERING DELIVERY
If your gathering is located elsewhere and you need everything to come to you, our event planners are ready to deliver
Interested in Private Dining or Catering with Blue Canyon for your next event?
Please choose from one of our three locations below: